4 ATV/UTV Wheels Set 12in STI HD3 Machined 4/110 5+2 IRS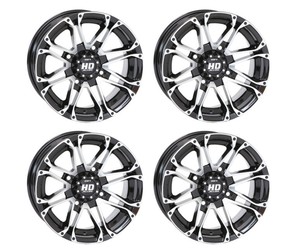 ---
Check out our great feedback from thousands of satisfied customers!
Trax Motorsports is a real motorsports accessories store located in West Monroe, LA. We carry brand new merchandise (not factory seconds or refurbs). Check out our feedback if you have any doubts about the quality of our products or our exceptional customer service! Don't hesitate to contact us if you have any questions before or after the sale.
Note:  The stock photo is not the actual product.  It is only to illustrate the design of the wheel.  The actual dimensions may vary slightly from the pictures.**Important notes about compatibility with your bike:(1) Please refer to the list of compatible vehicles above.  If your ATV or UTV is not listed then these wheels are not going to fit.  Call or email us with your make/model/year for help finding the right fitment.We are happy to answer your questions by phone or email before you make the purchase.  ONCE YOU PAY FOR IT WE WILL IMMEDIATELY START THE SHIPPING PROCESS so please ask any questions before you pay.  It would help us to double check your order if you would include a note with your PayPal payment with Make, Model, Year of your vehicle. DESCRIPTION: This wheel set includes 4 Machined STI HD3 wheels with center caps, chrome valve stems and 16 chrome 10mm x 1.25mm beveled lug nuts.
  FRONT WHEELS REAR WHEELS
DIAMETER
12
12
WIDTH
7
7
BOLT PATTERN
4/110
4/110
OFFSET
5+2
5+2
LUG NUTS
chrome 10mm x 1.25mm beveled
chrome 10mm x 1.25mm beveled
VALVE STEMS
chrome
chrome
CENTER CAPS
INCLUDED
INCLUDED
Long-Lasting Rugged CharacterSTI's HD3 wheels, a valued member of the HD Alloy family, are available in two distinctive finishes, Machined with gloss black accents, and solid Gloss Black. Several offsets and bolt patterns make the eye-catching HD3 perfect for application on most popular ATV and side-by-side UTV models. Low-profile center caps included with each wheel are perfectly matched to each finish. Like all STI HD Alloy series wheels, the lightweight HD3 comes with a lifetime structural warranty, by way of its unique inner and outer heavy-duty wheel lip reinforcement. The HD3 is as tough as it is classy, boasting load ratings of 1000 lb. for both the 12- and 14-inch models. Low-profile center caps Features HD Alloy construction, including reinforced inner bead lip 1000-lb load rating for both sizesLifetime structural warranty

Payment Methods:
We accept PayPal, Visa, Mastercard, American Express and Discover.
Contact Us:
Call us or email us through .  We are available by phone from 9am to 5pm CST Monday through Friday.
Shipping:
We ship most orders by UPS ground service. Orders usually arrive within 3 to 7 business days from purchase. However we have warehouses around the country to provide the fastest shipping possible (see feedback from our customers). Tracking numbers will be provided within 1 business day.Shipments to ALASKA & HAWAII will require additional shipping costs. We will need your zip code and item # in order to provide shipping costs. You can email or call us for quotes. We do not ship to P.O. boxes, APO or FPO addresses.
Exchanges/Returns Policy:
Upon receiving product please inspect the package immediately to verify all parts are received and undamaged. Trax Motorsports will ONLY pay shipping and return postage costs for defective merchandise or items damaged in shipping. All non-damaged returns are subject to a 15% restocking fee. Returns must be preauthorized and returned within 14 days of shipment date. When you return an item, it should be returned in the original packaging and accompanied by original packaging slip. Our return shipping address is:  Trax Motorsports LLC, 5464 Cypress St, West Monroe LA 71291
Thanks for shopping with Trax Motorsports!

 

WHEEL4x[M(12HD300)] VALVE4x[M(412CHROME)C(W9902S)A(ACC5991)AU(254174)] VALVES1x[W(85-0450)T(292301)] LUG16x[M(LUG1CA)W(57-94120)A(CLUG10)AU(264004)]LUGS1x[M(LUG1CA-16)C(DF-54010S)W(57-94121)A(CLUG10-16)T(371259)AU(264005)]STI_HD3M-12-IRS

Powered by SixBit's eCommerce Solution