Baby Infant Rocker Bouncer Swing Reclining Chair and Toys 0M+ Different Designs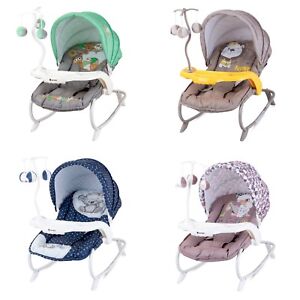 ---
Beauty 4 Britain Listing Follow Us View Feedback Show Categories Pushchairs Car Seats Nursery Mealtime Bathtime Playtime Safety Baby Care Baby Infant Rocker Bouncer Swing Reclining Chair and Toys 0M+ Different Designs
View Other Products
Pushchairs Car Seats Nursery Mealtime Bathtime Playtime Safety Baby Care
Description
Ideal solution for the sunniest summer days, this bouncer has a folding canopy and a rack for objects. The mood of the child is guaranteed by a special toys. If the baby needs a rest and a nap, the backrest can change the position, and you can push the swinging mechanism. The bouncer is compact and easy to carry, and the safety of the child is guaranteed by the ability to lock the swing.
Specifications
Соmрасt, lіght аnd еаѕу tо саrrу Аdјuѕtіng thе bасkrеѕt tо thе lуіng роѕіtіоn Fоldіng саnору Toys included Рlаѕtіс tор Safety belt Cute prints
Dimensions
Ѕuіtаblе fоr сhіldrеn frоm 0+ mоnthѕ Catalogue number: BP93077
Returns
Returns are accepted within 28 days of the customer receiving the product. Original packing, no using, no marks.
Business Details
Constantin & Co LTD VAT no: GB197014891 Address: 303 Prince of Wales Road Sheffield, S2 1FH United Kingdom
More Products
Pushchairs Car Seats Nursery Mealtime Bathtime Playtime Safety Baby Care
About Us
Our philosophy is to offer every customer the chance to experience qualitative, products at an extremely affordable price
Copyright © Beauty 4 Britain | Photography Margarita Tomova