Bebe Style ComfiPlus Baby Cradling Bouncer Musical Vibration Chair Seat Rocker 5060510210462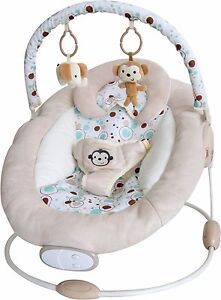 ---
Bebe Style's ComfiPlus Floating Cradling Bouncer with vibrations and music. This exquisite extra thick plush cushioning, non-slip feet, cradle is perfect for your precious little one!
Striking floating design and made to a very high quality – Perfect for any home!
Two tilt positions & removable head hugger for maximum comfort. Superb plush fabric with a cradling seat design, infants can safely bounce to their heart's delight. A comforting vibration enhances the appeal of thebouncer and gently massages and comforts infants.
For quick cleanup, the removable seat pad is machine-washable for easy maintenance and care. The toy bar includes two plush soft toys sure to delight baby as they sway with the gentle vibration and soothing music of the bouncer.
·        Suitable from birth to 8 months (Max weight 9Kg)
·        Modern floating design
·        Cradling design – Helps keep baby feeling secure
·        Soothing Music Lullabies
·        Vibration
·        Soft Toys
·        Removable toy arch
·        2 Recline Positions
·        Plush thick fabric
·        Removable, washable padded soft seat fabric
·        Head Hugger
·        Removable toys
·        3 Point Harness
·        Choose Between Music On/Off independently of the vibrate function
·        Portable
Dimensions: 58x66x60 cm