Motoclub. patch, crest, embroidered, sealing, toppa aufnäher patches.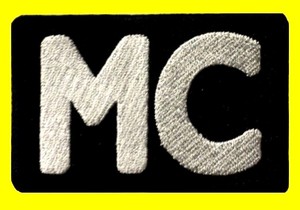 ---
!! PROMOTION !!Patch, écusson brodé thermocollant aufnäher toppa. MC moto club, President. biker, moto.Made in USADIMENSIONS: 8,8 x 2,5 cm. DIMENSIONS: 7,5 x 4,9 cm.Les articles sont expédiés dés réception du paiement. Thermocollant (a coller au fer à repasser) ou à coudre. Idéal pour personnaliser vos vêtements ou vos accessoires.... Donnez une touche originale  à vos vêtements ou tout simplement réparer.  A fixer facilement avec un fer à repasser (thermocollant) ou à coudre.Les articles sont expédiés dés réception du paiement.

COMMENT coller votre écusson :

Faites chauffer votre fer selon la matière de votre tissu.

Poser le vêtement sur la table à repasser et positionner l?écusson face collante vers le tissu.

Couvrir l?écusson avec ou sans linge humide (selon le tissu) 

puis poser le fer à repasser 15 à 30 secondes en exerçant une forte pression.

Répéter l?opération  à l?intérieur du vêtement si besoin.

Vérifier que l?écusson est collé correctement.

Bien laisser refroidir avant utilisation.

 

 Patch Abzeichen Eisen-aufnäher toppa bestickt.

Ideal für Ihre Kleidung oder Zubehör Personalisierung ....

Geben Sie eine besondere Note zu Ihrer Kleidung

oder einfach nur zu reparieren.

  Ein Satz leicht mit einem Eisen (zum Bügeln) oder Nähen.

Die Artikel werden nach Eingang der Zahlung versendet.

WIE halten Ihr Abzeichen:

Heizen Sie Ihr Eisenmaterial nach Ihren Tuch.

Legen Sie das Kleidungsstück auf dem Bügelbrett und positionieren 

Sie den Schirm klebrigen Seite des Gewebes gegenüber .

Decken Sie den Patch mit oder ohne einem feuchten Tuch (je nach Gewebe) 

und dann stellen Sie das Bügeleisen 15 bis 30 Sekunden ausgeübt starken Druck.

Wiederholen im Kleidungsstück , falls erforderlich.

Überprüfen Sie, ob der Schirm korrekt eingefügt wird.

Obwohl kühl vor dem Gebrauch. 

 

Patch escutcheon thermoplastic aufnaher toppa embroidered.

Ideal for personalizing your clothes or accessories.

Give your clothes an original touch

Or simply repair.

  To be fixed easily with an iron (heat-sealing) or to sew.

Items are shipped upon receipt of payment. 

HOW to stick your badge:

Heat your iron according to the material of your fabric.

Place the garment on the ironing board and position the sticky side shield towards the fabric.

Cover the badge with or without a damp cloth (depending on the fabric) 

and then apply the iron 15 to 30 seconds with strong pressure.

Repeat the operation inside the garment if necessary.

Check that the badge is glued properly.

Allow to cool before use.

Patch stemma Aufnäher termoplastico toppa ricamata.

Ideale per personalizzare i vostri vestiti o accessori.

Dare i vestiti un tocco

O semplicemente riparare.

Un insieme facilmente con un ferro da stiro (tenuta) o il cucito.

Gli articoli sono spediti al ricevimento del pagamento.

Come attaccare il badge:

Riscaldare il ferro da stiro secondo il vostro materiale del panno.

Posizionare il capo sull'asse da stiro e mettere il pannello laterale adesiva al tessuto.

Coprire il badge con o senza un panno umido (a seconda del tessuto), 

quindi applicare il ferro 15 a 30 secondi con forte pressione.

Ripetere all'interno del capo se necessario.

Assicurarsi che il tag viene incollato correttamente.

Raffreddare prima dell'uso.